GIANT 7630 LS-FE 10W-30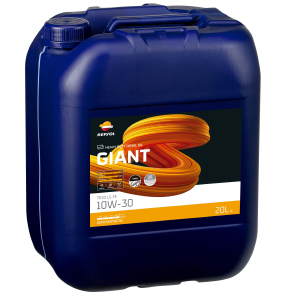 Lubricant oil with MID SAPS synthetic technology designed to meet the most demanding requirements of state-of-the-art diesel engines (EURO VI). Its reduced ash content ensures suitable operation in engines with exhaust gas post-treatment systems, such as particle filters. Especially recommended for engines requiring a quality level of API CK-4, ACEA E9 and using fuel with low sulfur content. Furthermore, due to its viscosity and additivation, it contributes to fuel saving and helps to protect the environment.
Technical Information
Quality levels, approvals and recommendations
RENAULT: VI RLD-3*
CUMMINS: CES 20086*
ACEA: E9/E7
DETROIT DIESEL: DFS 93K222*
DEUTZ: DQC III-10 LA*
MACK: EO-S 4.5*
API: CK-4/CJ-4/CI-4/CI-4 Plus *
VOLVO: VDS-4.5*
CATERPILLAR: CAT ECF-3


(*) Formal approval
Long lasting lubricant oil suitable for exhaust gas post-treatment systems, which enables the reduction of maintenance costs and waste generation.
It can be used in combination with GNC, GLP and biodiesel fuel, in accordance with the recommended drain intervals periods established by the manufacturers.
Its Mid Saps (mid ash) technology ensures performance and durability of modern engines equipped with particle filters by preventing their premature obstruction.
Due to its level of quality and performance, this lubricant is suitable for the most modern EURO VI engines and earlier models.
Its formula has been shown to decrease fuel consumption, contributing to protect the environment.