GIANT 7540 15W-40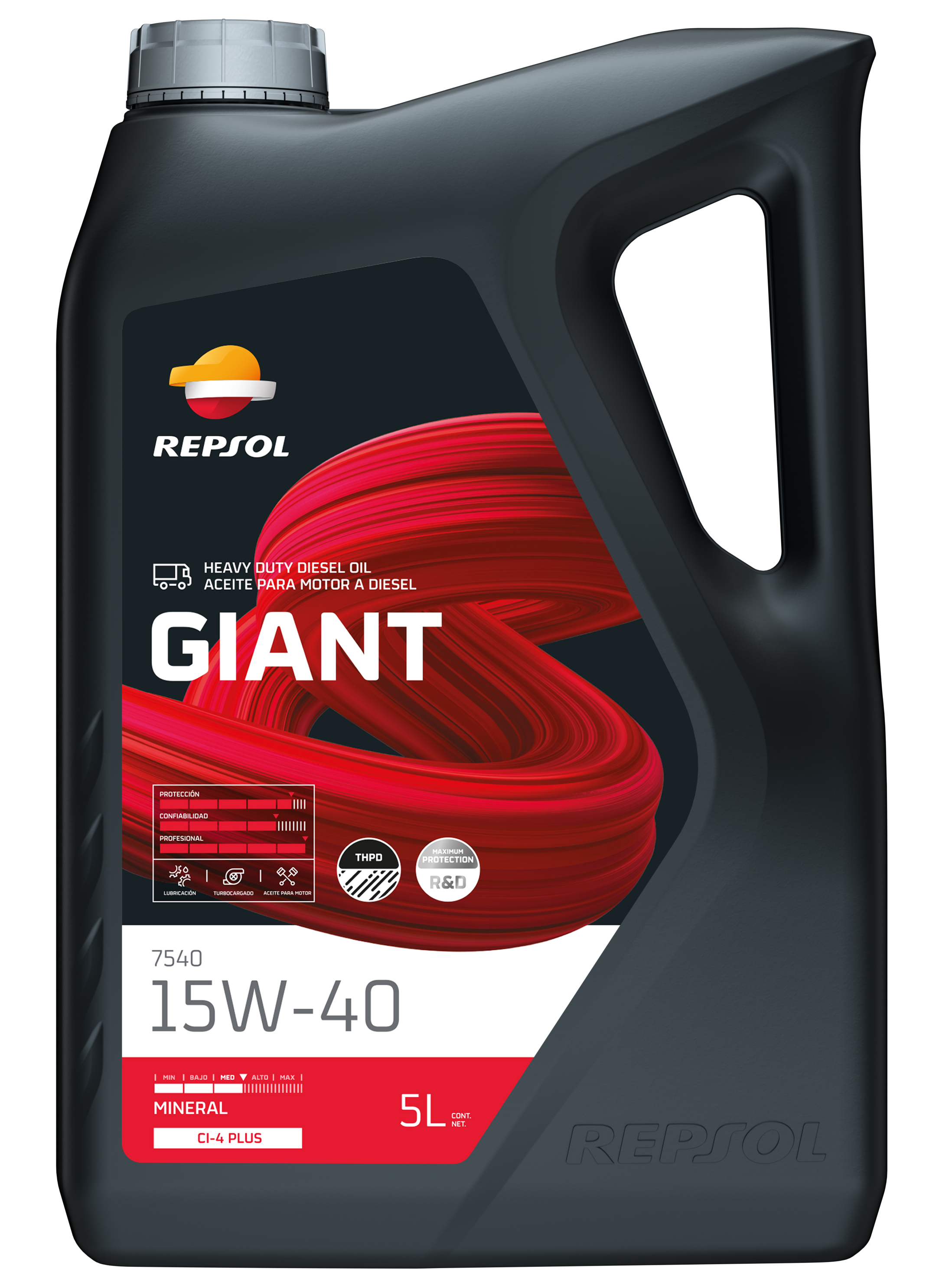 Multigrade lubricating oil formulated with group II bases and latest generation additives, which gives it longer change intervals, high detergency power, excellent capacity to disperse particles derived from engine combustion, and high anti-corrosive power. Recommended for four-stroke diesel engines, designed to comply with the 2004 exhaust gas emission standards. Maintains durability of the engine when exhaust gas recirculation (EGR) systems are used. Designed to be used with diesel with a sulfur content of up to 0.5% in weight offering better control of soot and can replace CF, CF-4, CG-4, CH-4, and CI-4 categories. API Certificate Diesel engine oils. Consult and follow the engine manufacturer's recommendations. Table of Approvals: API CI-4 PLUS, CI-4, CH-4/SL ACEA E7 MB-Approval 228.3 MAN 3275-1 VOLVO VDS-3 MTU Type 2.0 MACK EO-N CUMMINS CES 20076, 20077, 20078 CATERPILLAR ECF-1a RENAULT VI RLD-2 DETROIT DIESEL DDC 93K215 DEUTZ DCQ-III-05, DQC-II-05 Global DHD-1
Technical Information
Quality levels, approvals and recommendations
• ACEA: E7
• API: CI-4 PLUS, CI-4, CH-4/SL*
• CATERPILLAR: CAT ECF-2/ECF-1-a
• CUMMINS: CES 20076/20077/20078*
• DAIMLER TRUCK: DTFR 15B110*
• DETROIT DIESEL: DFS 93K215*
• DEUTZ: DQC III-18*
• Global: DHD-1
• MACK: EO-N*
• MAN: M 3275-1
• MB: 228.3*
• MTU: Type 2*
• RENAULT: VI RLD-2*
• VOLVO: VDS-3*
*Formal approval
(*) Formal approval
⦁ Formulated with Group II bases, which gives it some magnificent properties against oxidation.
⦁ Multigrade oil valid for all weather conditions. Excellent pumping on ignition.
⦁ High dispersing detergent power that assures total cleaning of engine elements.
Exceptional soot dispersion capacity, which makes it especially recommended for engines that incorporate EGR type emission reduction systems.
⦁ Its selected components endow it with enhanced shearing resistance, maintaining its design viscosity during the life of the oil.
⦁ Oil designed to comply with contaminating emission reduction standard EURO 4 and earlier, which also increases performance compared to traditional heavy diesel oils.
⦁ Depending on service conditions and EURO 3 engine type, this product can prolong the oil change period, provided the recommendations of the engine manufacturer are followed.
Its modern formulation endows this oil with magnificent anti-wear properties; it is specially designed to protect the compressor turbo.