RIDER TOWN 4T 20W-50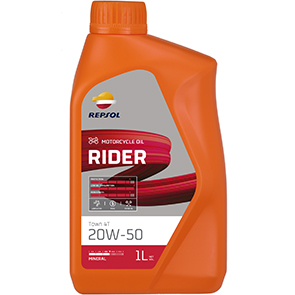 High-quality multigrade lubricating oil with refined bases, specially aimed at four-stroke gasoline motorcycles the greater part of whose activity is developed in urban environments exposed to the traffic of large cities.
Technical Information
Quality levels, approvals and recommendations
JASO: MA2*
API: SJ


(*) Formal approval
⦁ Guarantees good lubrication in normal service conditions
⦁ Prevents the formation of lacquers and varnishes thanks to its dispersant additives.
⦁ Its degree of viscosity guarantees perfect performance in warm atmospheres.
⦁ Its detergency ensures the piston is properly cleaned.
⦁ It maintains a suitable pressure and temperature under all service conditions.