MASTER RACING 0W-40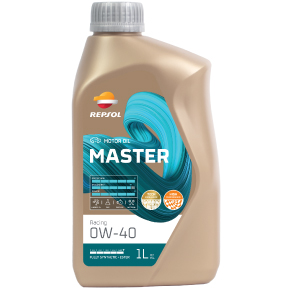 Synthetic lubricant oil specifically designed to cover the needs of high performance engines. MASTER RACING 0W-40 is the result of the experience accumulated by the Repsol racing teams. Its carefully studied formula optimises the resistance to oxidation of the different engine parts, prevents the formation of deposits and enhances the engine performance at low temperatures. It is the perfect lubricant for powerful vehicles regularly used in any type of weather conditions, environment and circumstances.
Technical Information
Quality levels, approvals and recommendations
Enhanced behaviour at low temperatures compared to other lubricants of a similar category, as shown by the sludge formation results. This ensures excellent performance under urban driving conditions.
Reduced lubricant consumption achieved by the use of synthetic base oils in its formulation.
The excellent results obtained in tests such as the oxidation, the cam wearing and the deposit formation in the piston guarantee extended engine life of powerful vehicles.