MASTER ECO F 0W-30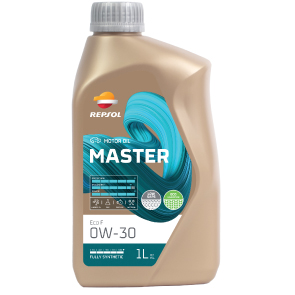 Synthetic lubricant designed for light diesel and petrol vehicles that, thanks to its low viscosity, increases fuel economy and reduces CO2 emissions, resulting in a lower environmental impact.
Technical Information
Quality levels, approvals and recommendations
JAGUAR LAND ROVER: STJLR.03.5007
FORD: WSS-M2C950-A*
ACEA: C2


⦁ Its studied formula allows for magnificent anti-wear and anti-oxidant properties, in addition to a high detergent-dispersant power, protecting the engine and keeping it clean while increasing the oil's service life.
⦁ Excellent performance in cold conditions, evidenced by easy oil pumping when starting the engine and reduced wear thanks to the rapid formation of the lubricant film.
⦁ Suitable for vehicles fitted with particulate filters that require ACEA C2 quality level, thanks to its lower ash content.
⦁ Thanks to its viscosity, this lubricant can reduce fuel consumption and, consequently, CO2 emissions in normal driving conditions (>2.5% fuel economy under standard test conditions M111FE).