DRIVER HGX HIGH MILEAGE 25W-60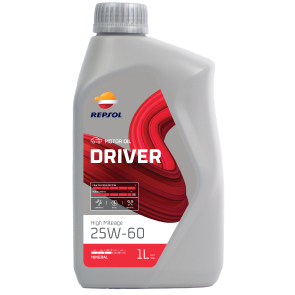 Multi-grade lubricant suitable for gasoline vehicles with high mileage. The bases and additives used in the formulation enable reduced leaks and oil consumption due to the sealant effect produced on the most worn parts of the engine, guaranteeing maximum protection. Also suitable for vehicles that use CNG or LPG as fuel.
Technical Information
Quality levels, approvals and recommendations
Excellent control of oxidation and sludge that can appear as a result of combustion. Control of these parameters is vitally important for vehicles subjected to high mileage and heavy conditions of use.
Suitable for petrol vehicles and hybrids converted to run on CNG or LPG.
Acts as a sealant, helping to reduce oil leaks.
Protects worn parts of the engine thanks to its anti-wear additive constituents.
Reduces oil consumption.