MAKER TELEX HVLP 46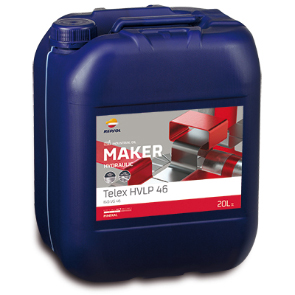 The base oils used to manufacture this group of products have been carefully refined to obtain a high viscosity index and excellent resistance to oxidation. Its constituent additives, as well as enhancing these natural characteristics, provide this lubricant with exceptional anti-wear properties and temperature performance. These oils are specially designed for hydraulic circuits subjected to sudden temperature changes in which oils are also required to have greater anti-wear properties. They are specifically suited to hydraulic circuits exposed to the elements or with low working temperatures, as well as equipment requiring viscosity variations that are significantly lower than in standard fluids, and hydraulic systems used at sea (watertight doors, capstans and windlasses, stabilisers, etc.). Excellent performance in hydraulic systems for all kinds of public works machinery.
Technical Information
Quality levels, approvals and recommendations
DIN: 51524-HVLP
IBERCISA*
ISO: 6743/4 HV, 11158 HV
MANULI*
THYSSENKRUPP: 16 (Hidraulicos HVLP)*
AFNOR: NF ISO 11158 HV, 48-690, 48-691
IMS DELTA MATIC*
Fives Cincinnati: P-70


(*) Formal approval
High resistance to oxidation, ageing and sludge formation.
Excellent water separation.
Outstanding anti-wear properties.
Very good anti-foaming qualities.
Very high viscosity index.
Effective protection of metals against corrosion.
Compatible with the joints habitually used in hydraulic circuits.
Great load-bearing capacity.