DRIVER HIGH MILEAGE 25W-60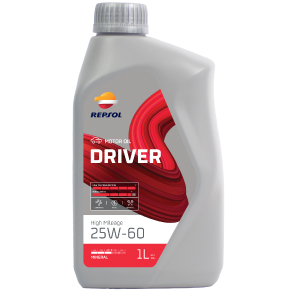 Multigrade lubricant valid for gasoline vehicles with high mileage. The bases and additives used in its formulation reduce leaks and oil consumption thanks to the sealing effect it produces on the most worn parts of the engine, guaranteeing maximum protection. It is also valid for those vehicles that use CNG, LPG or NGV as fuel.
Technical Information
Quality levels, approvals and recommendations
⦁ Excellent control of oxidation and sludge that can form during combustion. The control of these parameters is essential in high mileage vehicles with severe operating regime. ⦁ Valid for gasoline and hybrid vehicles converted to CNG, LPG or NGV. ⦁ Seals and helps reduce oil leakage. ⦁ Protects the most worn parts of the engine thanks to the anti-wear additives it incorporates. ⦁ Reduces oil consumption.