MAKER SYNTHETIC THOR 100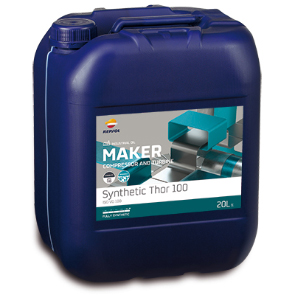 Ester-based synthetic fluid, with additives that give it excellent resistance to oxidisation and great thermal and chemical stability. Its low freezing point and anticorrosive capacity are notable characteristics. The product is recommended for lubricating alternative compressors in severe working conditions, for rotary compressors such as the blade type and screws where the fluid allows ample oil change periods. The characteristics of the product enable it to be used in vacuum pumps working in large vacuums and inert gas compressors.
Technical Information
Quality levels, approvals and recommendations
SPERRE: X-Range Compressors*
ISO: 6743/3 DAB, DAJ, DGE, DVE
DIN: 51506 VDL
MacGregor (HATLAPA, PORSGRUNN, PUSNES)*


(*) Formal approval
Strong resistance to oxidation.
Longer intervals between draining.
Great thermal and chemical stability.
Reduced deposits of varnish and sludge.
Low pour point.
High anticorrosive capacity.